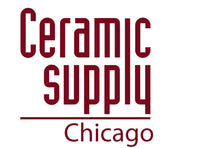 CERAMIC SUPPLY ORDERING
OUR RETAIL STORE IS OPEN: 
MONDAY - FRIDAY, 9 AM TO 4PM 
IF YOU WOULD LIKE TO PLACE AN ORDER FOR STORE PICKUP, LOCAL DELIVERY, OR SHIPPING; PLEASE USE OUR ONLINE STORE AT WWW.CERAMICSUPPLYCHICAGO.COM
OR CALL 847.425.1900
Please note, we will not begin to process your order until you've provided a purchase order or another form of payment. Orders will not be scheduled for delivery or store pick-up without a purchase order or payment.
We appreciate your consideration and patience while your order is being processed - Thank you.
SCHOOLS, ART AND BUSINESS CENTERS REQUESTING A QUOTE OR WISHING TO SUBMIT A PURCHASE ORDER, PLEASE SEND YOUR REQUESTS AND PURCHASE ORDERS TO: info@ceramicsupplychicago.com
**NO RETURNS ON ITEMS THAT HAVE BEEN OPENED OR DAMAGED** 30 DAY RETURN POLICY
Store Hours
Regular Store Hours:
Monday 9:00AM - 4:00PM
Tuesday 9:00AM - 4:00PM
Wednesday 9:00AM - 4:00PM
Thursday 9:00AM - 4:00PM
Friday 9:00AM - 4:00PM
Every 2nd Saturday of the month 10:00AM - 3:00PM
Follow us on Instagram for the latest news & events!