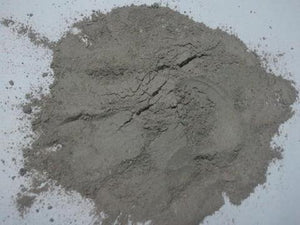 Also known as Hawthorne Fireclay or just Hawthorne. It is a popular buff firing plastic Missouri fireclay of fine particle size and has long been used in many commercial clay body recipes. It fires a buff to tan color with approximately 12% total shrinkage at cone 10. Ground to 35-40 mesh.
This is a different material than AP Green fireclay. The latter is a greenish raw color (this is greyish) and has many more coarser particles in the slurry state. The plasticity of this is such that it can be mixed as-is and used effectively on a potters wheel. Plasticity is quite similar to the AP Green fireclay also. The fired maturity of this is such that it needs only a small amount of feldspar to vitrify in the cone 8-10 range.
Val Cushing recommended Hawthorne as a substitute for Pine Lake Fireclay. However our testing indicates that although the two have similar porosity over a range of temperatures, this has much higher fired shrinkage and lower drying shrinkage. He also recommended mixing this with 15% Lizella red as a substitute for PBX Fireclay, that is not far off the mark with the latter is a little less vitreous and fires a little darker.